All Saints Day has several other names. It is also called 'All Hallows Day' or 'Hallowmas' or 'The Feast of All Saints' or 'Solemnity of All Saints'. The day, by whatever name it is called, is the day that all the Saints are remembered by the church. A few churches celebrate it on other days, but for most Western Religions, All Saints Day is November 1st.
Western Christian practice has it that the 3 days from October 31 through November 2 are the season of Allhallowtide. That includes All Hallows Eve (Oct 31), All Saints Day (Nov 1) and All Souls Day (Nov 2). October 31 was included because the celebration of Allhallowtide starts with vespers on that evening. Then All Saints Day went until midnight on November 1 when All Souls Day started. While All Saints Day was to celebrate and remember all the saints, All Souls Day was to pray for the souls of the departed.
The fact that October 31 was also the celebration of Samhain's Eve, the only day of the year the Celts believed evil spirits and the dead could wander the Earth, the early Christians believed it be a Pagan holiday. It would be easy to associate the pagan day with the days of Allhallowtide, however, there seems to be no association between the two.
The term "Halloween" did come from the "Eve of All Hallows", as in the night before All Saints Day.
The celebration of the other 2 days, All Saints' Day and All Soul's Day, together came from the belief there was a bond between the living on earth and the souls in heaven. While All Saints day is set aside to celebrate the communion of all saints, All Souls Day is to pray for departed.
All Saints Day is the day of prayer and celebration of the saints. While most had their own "Feast Day" ie August 24 is the Feast of St Bartholomew, September 8 is celebrated as the St Mary's Day, the Feast Day of St Margaret is November 16, and so on. There is a Saint celebrated every day of the year. List of Feast Days So, I assume, All Saints Day is to catch those Saints that didn't make the annual calendar.
All Souls Day is the day set aside to pray for the souls of those departed. In some cultures it is a day to visit the graves of those family members and loved ones. The graves are cleaned, some times including white washing the tomb stones. Flowers, candles, and other gifts are placed on the graves in memory the departed.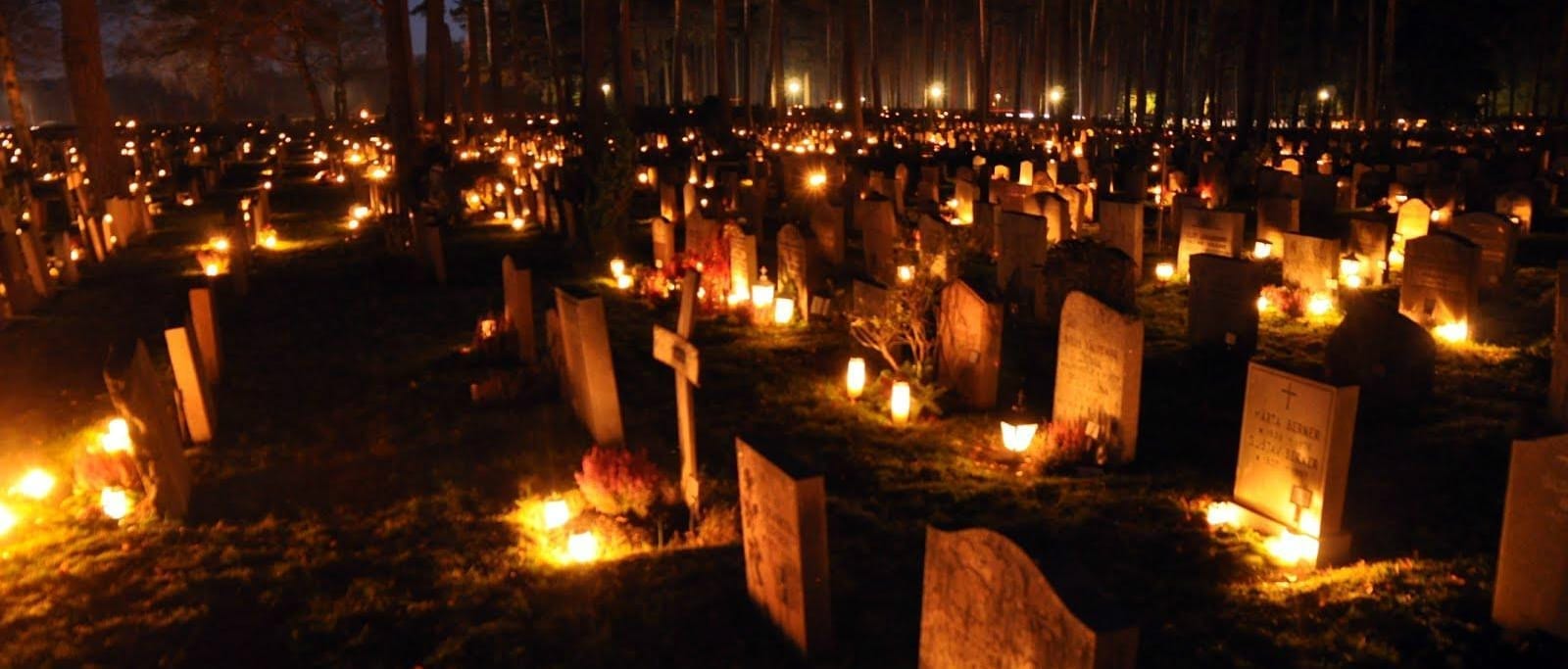 Church services were held for prayer and remembrance of those no longer with us. Traditionally, a list of those in the area who had departed that year was posted on the door of the church.