As we know, the first Christmas lights were the tapers on the very early Christmas trees in the 17th century, the tradition that started in Germany. We have come a long way from candles on a tree to entire houses lit from top to bottom with hundreds (maybe thousands) of string of lights. So how did we get here.
Candles were pinned to the boughs of the Christmas Trees or attached with wax. Another tradition were candles that were placed in the windows of homes of Christians. This indicated that it was a Christian home and other Christians were welcome there. Perhaps the origin of the candles we place in our windows at Christmas time now.
While Thomas Edison is credited for the first outdoor Christmas Light Display, which he placed outside his office. It was Mr. Edward Johnson, an employee of Mr. Edison's, who created the first string of Christmas lights by linking 80 lights together. The local press ignored the event, but the festive lights earned a mention in a Detroit newspaper. That was all Johnson needed to earn the title Father of the Electric Christmas Tree.
By 1890 string of lights were being mass produced. Initially they were used by department stores in their Christmas window displays. At that time electric Christmas lights were too expensive for the masses. In 1900, a string of 16 lights cost around $12 ($350 in today's money).
In 1925 a union of 15 companies that manufactured Christmas tree lights. That company, (NOMA), was started by the Sadacca brothers. The company was in business until 1968. By the 1940s and 1950s the lights became cheaper and more and more homes started using them.
However, thanks to NOMA more and more people began to purchase Christmas lights in the 1940s and 1950s as the lights became cheaper. People started decorating their houses as well as their trees to match elaborate department store displays. By this time, as the lights became affordable, more people in the people decorated their houses to symbolize the Christmas star that was supposed to have led the Wise Men to Bethlehem.
Today an estimated 150 million light sets are sold in America each year, adding to the tangled millions of strings stuffed into boxes each January. They light 80 million homes and consume 6 percent of the nation's electrical load each December. And though the contagious joy of these lights has been co-opted orange at Halloween and red at Valentine's Day, it all started with Johnson's miracle on 36th Street.
If you thought stringing popcorn for hours could get tedious, imagine fumbling around trying to attach a multitude of lit candles to a tree using melted wax or pins. Revelers eager to keep their holiday spirits bright needed to keep a bucket of water or sand close by. A few erstwhile inventors tried to figure out the best way to do this safely, including clip-on candle holders with an attached tin cup to catch the melted wax. Despite the dangers of mixing open flame with drying-out trees, candles would remain a Christmas staple through most of the 20th century.

By the early 1900's insurance companies refused to pay for damages caused by Christmas Tree fires.
The tradition of a lit Christmas Tree did not become popular with the British people until the Illustrated London News ran a picture of Queen Victoria and Prince Albert gathered around a lit Christmas tree with their children. However, it was a picture of the royal family in an 1850 edition of Godey's Lady's Book (with the Queen's tiara and Prince Albert's mustache removed) that the tradition became popular stateside. For some reason, this altered image became the first "influential American Christmas tree."
Still, in 1895, electric lights were not seen as safe as candles to decorate a Christmas Tree. However, it wasn't long before Christmas trees all the rage. However the cost limited the number of households that could afford one. Using these "new fangled" on the tree was quite costly. One needed to rent a generator and paying a wireman (an electrician) for the job. That could cost as much as $300 (the equivalent of $2000 today). Due this expense, the electrically lit tree remained available on to the well off. Such a site was limited to holiday parties of high society.
These days, displays of Christmas lights are a popular part of the annual celebration of Christmas (both at private homes, as businesses and local governments.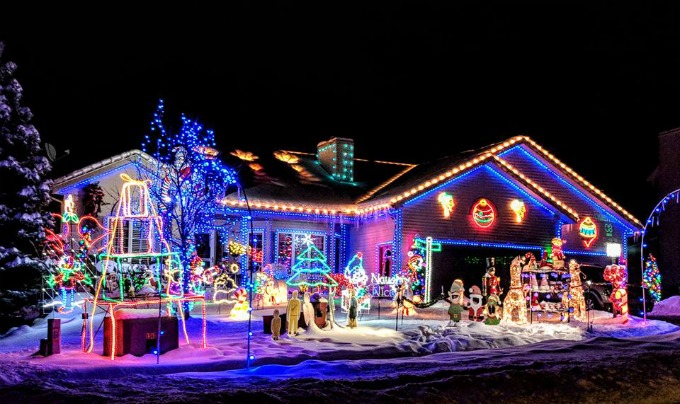 Even popular international sites are lit up for the holidays from the Eiffel Tower to the famous Rockefeller Center Christmas Tree to the Sidney Opera House. Annual Christmas light displays can be seen around the states - from the Holiday Trail of lights in east Texas to Christmas Tree Festival in Mississippi to Christmas Tree Lane in California to the Lane the Festival of Lights in northwest Louisiana.
There are several different types of holiday lights. The first were the

Incandescent lights. There are those the size of your thumb then the larger "outdoor" lights. There are the

Mini (or Fairy) Lights. Today most are LED lights which use much less electricity and produce almost no heat.