In 1959 Neiman Marcus offered their first "Fantasy Gift", a tradition they have continued ever since.
For $1925 one could purchase a Black Angus steer, delivered on the hoof, complete with a silver-plated serving cart. For an additional $305 one could have the present delivered dressed, as 300 lbs of steaks, roasts, and ground beef.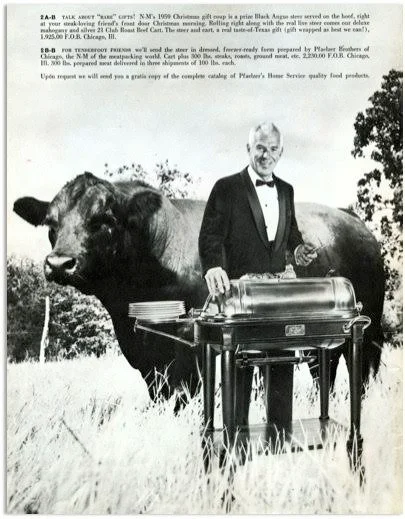 The offering was seen as marketing genuis. Also, over the years, the cover of the annual "Christmas Book" featured designs by the best artists of the time.
The 1954 Christmas Book cover:
The 1955 cover was a Madeline-inspired design illustrated by Ludwig Bemelmans.
This was the 1957 Christmas Book cover: